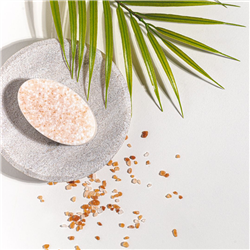 (Enlarge Image)
NOTE: If you are making these products for sale, good manufacturing practices recommend you wear a hairnet, gloves and a mask. We also recommend a clean apron and workspace.
To a microwave-safe measuring cup, add 14 oz. cut up Detergent Free Coconut Milk MP Soap. Heat in microwave until soap has completely melted.
In plastic beaker, combine 14 ml Coconut Milk Fragrance Oil with 7 ml of Vanilla Color Stabilizer and stir. Set aside for 2 minutes then mix into the melted soap.
To microwave-safe measuring cup, add 2 oz. of Coconut Soap Base and 0.30 oz. of Lotion Bar Additive. Heat in microwave for about 40 seconds or until lotion bar additive has completely melted. Add this into larger cup of melted soap and stir.
Add 1.10 oz. Epsom Salts and 1.10 Pink Sea Salts and stir well.
Place Oval Guest Silicone Mold on a cookie sheet. Carefully pour the soap into 8 cavities being sure to stir the soap mixture before each pour to help keep the salts blended.
Let sit at room temperature for about 10 minutes then place in freezer for about 30 minutes to set up.
Remove from soap mold and set aside.
Repeat above steps to make second set of soaps.
Package suggestion: Place 2 bars in a cello bag and tie with matching ribbon or raffia.
Label product accordingly.
To Use: Lather onto wet skin and rinse with warm water.
Ingredient Label:
Sorbitol, Sodium Cocoate, Propylene Glycol, Himalayan Sea Salt, Magnesium Sulfate, Sodium Stearate, Glycerin, Coconut Milk, Titanium Dioxide, Polyglycerol-3 Beeswax, Fragrance.