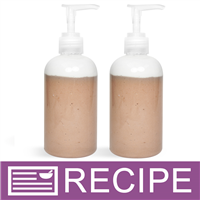 (Enlarge Image)
NOTE: If you are making these products for sale, good manufacturing practices recommend you wear a hairnet, gloves and a mask. We also recommend a clean apron and workspace.
In a plastic beaker, mix Hot Cocoa Fragrance Oil with Vanilla Color Stabilizer. Let set for at least 2 minutes.
In large bowl, add soybean oil, mid chain triglycerides liquid, macadamia nut butter, cocoa butter, palm oil and emulsifying wax.
Heat in microwave until wax has completely melted.
To a second microwave-safe measuring cup, add water and heat in microwave for about 1 minute. Slowly pour warmed water into bowl with oil/butter/wax mixture.
With hand mixer or stick blender, begin to blend water/wax mixture.
Continue to mix, scraping sides of bowl with spatula.
Once lotion has thickened, add fragrance mixture, vitamin E and preservative.
Continue to mix. Lotion will become light and airy with mixing.
Remove 8 oz. (1 cup) of lotion and place in separate bowl. To remaining lotion, add Gingerbread Brown and Caramel Brown Butterscotch Mica Powder to color. Mix color in well.
Using a cake decorating piping bag or zip close bag with tip cut off, fill each bottle with colored lotion filling about 3/4 full.
Pipe uncolored lotion on top of lotion in bottle (dividing between 4 bottles).
Cut dip tube to length of bottle and place on top.
Label product accordingly.
To Use:
Apply to skin as often as desired.
Ingredient Label:
Water, Emulsifying Wax, Soybean Oil, Medium Chain Triglycerides, Macadamia Butter, Cocoa Butter, Palm Oil, Fragrance, Vitamin E, Phenoxyethanol, Caprylyl Glycol, Sorbic Acid, Mica, Iron Oxide, Titanium Dioxide.