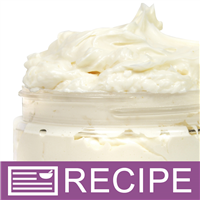 (Enlarge Image)
NOTE: If you are making these products for sale, good manufacturing practices recommend you wear a hairnet, glove and a mask. We also recommend a clean apron and workspace.
To a large glass mixing bowl, add 24 oz. of water. Set aside.
To microwave-safe measuring cup, add Evening Primrose Oil, Rose Hip Seed Oil, Almond Butter, Emulsifying Wax and Stearic Acid. Heat in microwave until waxes have completely melted.
Place bowl of water into microwave and heat for 2 minutes.
Slowly pour water into oil/wax mixture. Using a stick blender, begin to blend. Continue blending until the mixture starts to thicken. If mixture does not thicken after 10 minutes, place in refrigerator for 30-45 minutes until edges start to harden.
Scrape sides with spatula and stick blend to incorporate ingredients. Add Vitamin E, Isopropyl Myristate and Lemon Essential Oil. Continue blending.
Check temperature to be sure it is under 176°F. Add preservative and blend thoroughly for an additional 30 seconds.
Fill jars to approximately 4 oz. by weight. Let product cool completely before applying lid. Lotion will thicken as it cools.
Label product accordingly.
To Use: Apply to dry skin as needed.
Ingredient Label:
Water, Almond Butter, Emulsifying Wax, Evening Primrose, Stearic Acid, Rose Hip Seed, Isopropyl Myristate, Phenoxyethanol, Caprylyl Glycol, Sorbic Acid, Vitamin E, Essential Oil.