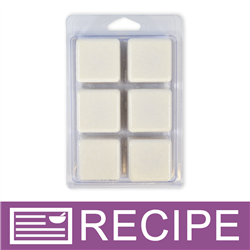 (Enlarge Image)
NOTE: If you are making these products for sale, good manufacturing practices recommend you wear a hairnet, gloves and a mask. We also recommend a clean apron, workspace and sanitized equipment.
To a large mixing bowl, add Baking Soda, Citric Acid, Lathanol Powder, Kaolin Clay and Sodium Borate. We suggest using a mask when working with Lathanol.
Stir with wire whisk and break apart any clumps of powder with gloved hands.
To a plastic beaker, add Lemon and Peppermint essential oils. Slowly add to dry mixture and mix with gloved hands until incorporated.
Pour 0.50 oz. Distilled Water over the mixture and quickly mix with hands to prevent fizzing. Mixture will stick together when squeezed in the palm of the hand.
Place one clamshell on a scale and tare to zero. Fill with mixture until scale reaches 5.75 oz. Press mixture down well so each square has an even amount of product. Brush mixture from the plastic dividers between each cavity so it is clean and neat.
Continue filling remaining clamshells. If any mixture remains, divide evenly among the clamshells.
Set clamshells aside to dry completely, preferably overnight, then close lids.
Label product accordingly.
TO USE: Place one tab into toilet bowl. Let fizz and soak for about 10 minutes. Use brush to clean bowl all over and then flush.
Ingredient Label:
Baking Soda, Citric Acid, Sodium Borate, Sodium Lauryl Sulfoacetate, Kaolin Clay, Lemon Essential Oil, Peppermint Essential Oil, Water.