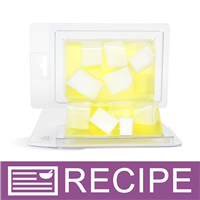 (Enlarge Image)
NOTE: If you are making these products for sale, good manufacturing practices recommend you wear a hairnet, gloves and a mask. We also recommend a clean apron and workspace.
Place clamshells on jelly roll pans for stability.
To large mixing bowl, add White Soap that has been cut up into small chunks. Set side.
To microwave-safe bowl, add cut up Clear Soap and yellow color block. Heat in microwave until melted.
Mix Fragrance Oil and Stabilizer together in beaker and allow to sit for at least 2 minutes. Add to melted soap and stir.
Pour the soap into the clamshells filling them half way full.
Thoroughly spritz the chunks of white soap with rubbing alcohol.
Place cubes of soap into the clamshells. Add enough cubes until the cavities are filled. Spritz with rubbing alcohol.
Let soap completely harden and place backs on clamshells.
Label accordingly.
To Use: Lather onto wet skin. Rinse off with warm water.
Ingredient Label:
Propylene Glycol, Sorbitol, Water, Sodium Stearate, Sodium Laureth Sulfate, Sodium Myristate, Sodium Cocoyl Isethionate, Glycerin, Titanium Dioxide, Yellow 5, Diazolidinyl Urea, Methylparaben.