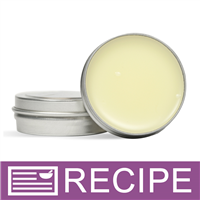 (Enlarge Image)
NOTE: If you are making these products for sale, good manufacturing practices recommend you wear a hairnet, gloves and a mask. We also recommend a clean apron and workspace.
To a heat-safe container or double boiler, add sweet almond oil and beeswax. Heat over low heat until wax has melted.
Add mango butter, sunflower oil and wheat germ oils to the melted oil/wax mixture. Let warm liquid melt butter. If mixture starts to thicken up, place briefly on heat source to warm product.
Add Vitamin E and Lemon Essential Oil to mixture and blend together.
For ease in pouring, pour mixture into plastic beaker. Then, pour into shallow tins. Let product completely cool before applying lid.
Label product accordingly.
TO USE: Rub cream into cuticle and all around nail area to moisturize.
Ingredient Label:
Sweet Almond Oil, Beeswax, Mango Butter, Sunflower Oil, Wheat Germ, Vitamin E, Lemon Essential.