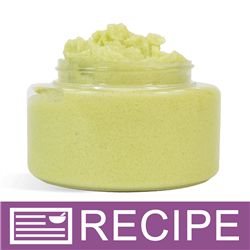 (Enlarge Image)
NOTE: If you are making these products for sale, good manufacturing practices recommend you wear a hairnet, gloves and a mask. We also recommend a clean apron and workspace.
In a large microwave-safe measuring cup, add emulsifying wax and MCT. Place in microwave and heat for 2 minutes.
Add aloe butter* and stir to soften. Place in microwave and heat just until melted. Stir.
Place in freezer for 30-45 minutes until top and edges thicken. Remove and stir, scraping sides well.
Using a hand mixer, whip until mixture is fluffy, about 5 minutes.
Add preservative, Vitamin E and essential oil and blend well.
With mixer on low speed, slowly blend salt into mixture.
Once salt is incorporated, add mica powder while mixing on low until well blended. More color can be added if darker shade is desired.
Fill jars with approximately 7.25 oz. by weight. Clean jars of any excess oils and apply lids.
Label product accordingly.
To Use: Massage onto wet skin and rinse with warm water.
*11/2019 - Original recipe included Lime Butter which was discontinued.
Ingredient Label:
Sea Salt, Aloe Butter, Medium Chain Triglycerides, Emulsifying Wax, Essential Oil, Vitamin E, Phenoxyethanol, Caprylyl Glycol, Mica, Titanium Dioxide, Iron Oxide.