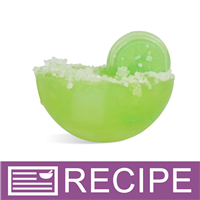 (Enlarge Image)
NOTE: If you are making these products for sale, good manufacturing practices recommend you wear a hairnet, gloves and a mask. We also recommend a clean apron and workspace.
FOR LIME SLICES: Melt 2 oz. Extra Clear Soap Base in a plastic beaker. Add (1) micro size scoop of Lime Green Mojito Mica Powder and (1) micro size scoop of Sliced Green Kiwi Mica Powder and mix well. If the micas clump, heat soap a little hotter to disperse the color.
Add 1 ml Lime Essential Oil and stir.
Place the Citrus Small Round Soap Mold on a cookie sheet. Pour the green soap into each round cavity filling to the 2nd line inside the citrus slice. Spritz the top of the soap with alcohol to release any surface bubbles. Save remaining soap for a later step.
Place mold in freezer for 30 minutes. Turn mold over onto countertop. Let set at room temperature for 5 minutes then gently press onto each cavity to remove the soap. Set aside.
FOR ICE CUBES: Melt 8 oz. of Extra Clear Soap Base. Add (1) micro size scoop of Shimmering White Clouds Mica Powder and stir well to incorporate. Pour soap into Guest Loaf Silicone Mold, spritz with alcohol and let harden.
Remove soap from guest loaf mold. Cut up into smaller "ice cubes". Each round bath bomb mold will hold approximately 1 oz. of ice cubes.
FOR GLASSES OF MARGARITA: Place each half of bath bomb mold into a cupcake tin or short glass to hold the molds in place while filling.
In a large glass measuring cup melt 20 oz. of cut up Extra Clear Soap Base. Add (5) micro size scoops of Lime Green Mojito Mica Powder and mix well with a wire whisk.
Add 0.40 oz. Lime Essential Oil and blend in.
Place 1 oz. of "ice cubes" into each round bath bomb mold half.
Melt beaker of dark green soap that was leftover from making the limes.
When the light green soap has cooled down to about 125°F, spritz ice cubes with alcohol and pour light green melted soap over ice cubes in each mold. Drizzle a small amount of dark green soap from beaker over top of each soap. This will add a little darker color to the margarita.
Let soap set slightly, then spritz the lime slices with alcohol and place a slice into each "glass". If the soap is still too liquid, let set a little longer. The slice can also be propped up between a few ice cubes to keep it standing straight up. If a skin forms over the top of soap, take your soap cutter and make a small cut into the soap. Then place the slice into the cut.
Let soaps set up until completely hard. These can also be put into the freezer for about 30 minutes. Remove from molds. Carefully push on bottom of mold. You will see the soap begin to release. Continue pushing until soap releases completely from mold.
Melt remaining 2 oz. of clear soap in a plastic beaker. Spritz the top of each "glass" with alcohol and drizzle a small amount of melted soap around the rim of the soap. Sprinkle a small amount of European Spa Salt onto the clear melted soap of each "glass". Let soaps harden.
To package, wrap in plastic wrap or place in a cello bag and tie with bright ribbon.
Label soap accordingly and be sure to add the warning "Do Not Ingest - For External Use Only".
To Use: Lather onto wet skin and rinse with warm water.
Ingredient Label:
Sorbitol, Propylene Glycol, Sodium Laureth Sulfate, Stearic Acid, Myristic Acid, Water, Sodium Hydroxide, Sodium Cocoyl Isethionate, Lime Essential Oil, Titanium Dioxide, Mica, Chromium Oxide Green, Synthetic Fluorphlogopite, Sea Salt.