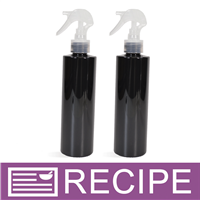 (Enlarge Image)
NOTE: If you are making these products for sale, good manufacturing practices recommend you wear a hairnet, gloves and a mask. We also recommend a clean apron and workspace.
Empty Luxury Moisturizing Mist into glass measuring cup.
Add Anise Essential Oil and stir to incorporate.
Divide evenly into bottles.
Trim dip tube to fit length of bottle and place sprayer on top.
Label product accordingly.
Warning:
Keep away from eyes. May stain sheets and clothing if sprayed too heavily.
To Use:
Shake before spraying. Spritz anywhere monsters are lurking.
Options: Make a Princess Spray
using Fairy Dust Fragrance Oil 269 and adding a small amount of Iridescent Super Sparkle Glitter. Package in pink bottles. Shake and spray magic in the air!
For a Sweet Dreams Spray,
mix base with Sleeptime EO & FO Blend 606, or Lavender Essential Oil 139. Package in Natural Boston Round Bottles. Lightly spray pillows before bedtime to keep bad dreams away and dream only happy ones!
Ingredient Label:
Water, Octoxynol-13, Nonoxynol-12, Propylene Glycol, Glycerin, Methylchloroisothiazolinone, Methylisothiazolinone, Fragrance.