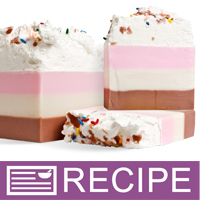 (Enlarge Image)
NOTE: If you are making these products for sale, good manufacturing practices recommend you wear a hairnet, gloves and a mask. We also recommend a clean apron and workspace.
In plastic beaker, mix 1.5 oz. of Blushed Cocoa Fragrance Oil* and 1.5 oz. of Vanilla Color Stabilizer. Mix well and set aside.
Weigh 14 oz. of white soap. Cut into chunks and place in glass measuring cup. Place in microwave and heat until soap has melted.
Cut and add slivers of Brown Oxide soap color bar until desired color is reached. Stir until color is completely blended in. Heat further in microwave if color is not completedly dissolved.
Add 12 ml of fragrance oil mixture and blend well.
Place silicone loaf mold on cookie sheet. This will add stability if mold needs to be moved.
Pour brown soap into loaf, spritz top of soap with rubbing alcohol and let soap completely set up.
Once soap has completely set up, weigh another 14 oz of white soap. Cut up and heat in microwave until melted.
To melted soap add 12 ml of fragrance oil mixture and stir. Before pouring second layer of soap, check that soap temperature is not hotter than 130°F. If it is hotter, it may melt the first layer of soap and help it to bleed.
Spritz top of brown soap generously with rubbing alcohol. Pour white soap over first layer and spritz again with alcohol. Allow to set up.
For third layer, weigh and melt 14 oz. of white soap. Melt soap slighly hotter to help melt soap color bar.
Cut off slivers of the Neon Pink soap color bar. Stir soap until color completely dissolves. Add enough color until desired shade is achieved.
Add 12 ml of fragrance oil mixture. Check soap temperature so it is no hotter than 130° F. Spritz top of white soap with alcohol and pour third layer of soap over the top. Follow with more spritzing.
Weigh 12 oz. of soap and cut up into chunks. Heat in microwave until completely melted. Add 10 ml of fragrance oil mixture and blend in.
Using a hand mixer, begin to whip melted soap. Start on low speed and gradually increase speed as soap thickens. Add 1 oz. of liquid glycerin and continue to whip.
When soap is fluffy, immediately pour over the top of the loaf. Make peaks with a spoon if desired. Let soap completely harden.
When hardened, carefully remove loaf from mold.
In a plastic beaker, melt approx. 0.5 oz. of white soap. Add slivers of Brown Oxide soap color bar to get nice chocolate shade. Drizzle over top of "whipped topping" and follow with candy sprinkles.
After the "chocolate syrup" has hardened, soap can then be sliced and wrapped.
Label accordingly.
To Use: Lather onto wet skin and rinse off with warm water.
*7/2020 - Cocoa Kiss Fragrance replaced with Blushed Cocoa Fragrance due to discontinued product.
Ingredient Label:
Propylene Glycol, Sorbitol, Water, Sodium Stearate, Sodium Laureth Sulfate, Sodium Myristate, Sodium Laurate, Butyrospermum Parkii (Shea Butter), Theobroma Cacao (Cocoa) Seed Butter, Mangifera Indica (Mango) Seed Butter, Fragrance, Glycerin, Triethanolamine, Titanium Dioxide, Polyester-3, Red 28, Iron Oxides, Sugar, Corn Starch, Hydrogenated Palm Kernel Oil, Dextrin, Carnauba Wax, Soy Lecithin, FD&C Yellow #5, FD&C Yellow #6, FD&C Red #3, FD&C Red #40, FD&C Blue #1.