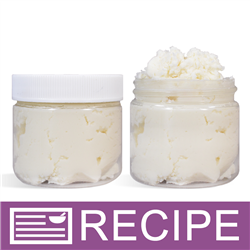 (Enlarge Image)
NOTE: If you are making these products for sale, good manufacturing practices recommend you wear a hairnet, gloves and a mask. We also recommend a clean apron, workspace and sanitized equipment.
Place a large measuring cup on a scale, weigh in almond butter, beeswax and emulsifying wax.
Heat in the microwave until the butter and beeswax is melted.
In a smaller bowl measure in the geranium hydrsol and water, heat in the microwave for 1.5 minutes.
Add sodium benzoate to the hydrosol and stir to melt, when it has combined add the potassium sorbate and stir until disolved.
Place the oil mixture on the scale and tare, to the oil and wax mixture add the botanical extract.
Add the water mixture to the oils, using a stick blender, mix the oils and water together.
Measure the Oatmeal, Milk and Honey II fragrance to a small bowl and add the Vanilla Color Stabilzer to it. Stir well and let sit for 2 minutes.
Add the coconut milk powder to the lotion and blend well.
Add vitamin e and fragrance mixture to the lotion and blend.
Lotion can be poured into containers and allowed to cool and thicken.
Cap and label accordingly.
To use: Rub a small amount onto hands when needed.
Ingredient Label:
Almond Butter, Geranium Hydrosol, Water, Coconut Milk, Beeswax, Emulsifying Wax, Potassium Sorbate, Sunflower Oil, Calendula Extract, Sunflower Extract, Aloe Extract, Irish Moss Extract, Marshmallow Extract, Fragrance, Vitamin E, Sodium Benzoate.