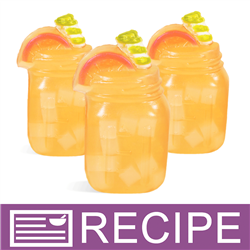 (Enlarge Image)
NOTE: If you are making these products for sale, good manufacturing practices recommend you wear a hairnet, gloves and a mask. We also recommend a clean apron and workspace.
In measuring cup, add 4 oz. of clear cut up soap and .05 oz. of white soap. Heat in microwave until melted. Carefully pour into the Itty Bitty Ice Cube mold. This should fill about one-half of the mold. Place mold in freezer for 20 minutes.
In plastic beaker, add 0.50 oz. clear cut up soap. Heat in microwave in 10 second increments until melted. Add 2 micro scoops of Martini Olive Green mica powder and stir well.
Pipe or paint color into straw area of soap mold. Alternate every other line and leave those blank. Let harden.
In separate beaker, melt a small amount of white soap. This will be piped into the straw, in between the green stripes.
In plastic beaker, melt 0.50 clear cut up soap. Heat in microwave until melted. Add 1 micro scoop of Nu Tone Scarlet Powder. Mix well.
Pipe soap into rind area of citrus slice. Let harden.
Unmold "ice cubes" from silicone mold and set aside.
In measuring cup, add 10.8 oz. cut up clear soap. Heat in microwave until melted. Add fragrance oil and stir well.
Into plastic beaker pour about 1 oz. of melted soap. Add 1 micro scoop of Orange Salsa Mica Powder and stir well. Pour half of this mixture back into the measuring cup of melted soap.
Pour the remaining orange soap from the beaker into the citrus slice area. If any soap remains, pour this back into the melted soap.
Spritz the "ice cubes" well with rubbing alcohol. Also, spritz the painted soap inside each soap cavity with rubbing alcohol.
Once soap has cooled to around 128°F, pour a small amount of peach colored soap into each mason jar. Sprinkle in a small amount of ice cubes then continue to pour in soap until the entire mold cavity is filled. Spritz, again, with alcohol and let soap completely harden. We recommend placing mold in freezer for 45 minutes to make it easier to remove soap from mold.
Once unmolded package in plastic wrap or other type of airtight packaging.
Label product accordingly.
To Use:
Lather onto wet skin and rinse off.
* Wholesale Supplies Plus is not affiliated or associated with Slatkin & Co.
Ingredient Label:
Sorbitol, Propylene Glycol, Sodium Laureth Sulfate, Stearic Acid, Myristic Acid, Water, Sodium Hydroxide, Sodium Cocoyl Isethionate, Titanium Dioxide, Fragrance, Fluorphlogopite, Tin Oxide, Iron Oxide, Mica.