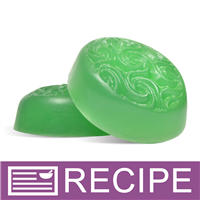 (Enlarge Image)
NOTE: If you are making these products for sale, good manufacturing practices recommend a hairnet, gloves and a mask. We also recommend a clean apron and workspace.
To top pan of double boiler, place 10 oz. Olive Oil, 1 tablespoon Rosemary Botanical and 1 tablespoon Peppermint Botanical. Add water to bottom of double boiler and bring to a boil. Let mixture simmer for 2 minutes. Turn off heat, cover and let steep for 2-2½ hours. Strain oil and place in glass jar. This recipe calls for 2 tablespoons of infused oil. The remaining oil can be stored for use in other projects.
To microwave-safe measuring cup, add 32 oz. of cut up Shave & Shampoo soap base. Heat in microwave in 30 second increments until all soap has melted.
(We recommend using a mask when working with lathanol powder. It is a very fine powder and becomes airborne very quickly.)
Add Lathanol Powder, one tablespoon at a time, and whisk vigorously until dissolved.
Add 2 tablespoons olive oil Infusion, 20 ml Rosemary EO and 10 ml Peppermint EO. Stir until all oils are mixed into the soap.
Add 10-15 drops of green liquid color and stir to evenly distribute.
Place molds on cookie sheets to provide stability. Pour soap evenly into all 6 cavities. Spritz tops with alcohol to pop any surface bubbles. Set aside until soap has hardened.
Unmold and package as desired in airtight packaging.
Label product accordingly.
To Use: Lather soap in hands and gently massage into hair and scalp. Rinse and follow with conditioner. Style as usual.
Ingredient Label:
Sorbitol, Propylene Glycol, Olive Oil, Sodium Laureth Sulfate, Stearic Acid, Lauric Acid, Water, Sodium Lauryl Sulfoacetate, Sodium Hydroxide, Coconut Oil, Argan Oil, Shea Butter, Silk Amino Acids, Honey, Bamboo Extract, Sunflower Extract, Aloe Leaf Extract, Carrageenan Extract, Marshmallow Root Extract, Peppermint Leaf, Rosemary Leaf, Rosemary Essential Oil, Peppermint Essential Oil, Green 5, Yellow 5.