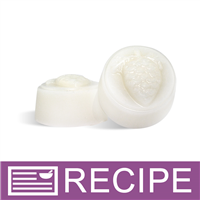 (Enlarge Image)
NOTE: If you are making these products for sale, good manufacturing practices recommend you wear a hairnet, gloves and a mask. We also recommend a clean apron and workspace.
To a metal pot, add 2 oz. each of White Beeswax and Palm Kernel Flakes.
Over low heat on stove, heat until completely melted. Stir any small pieces that may be unmelted.
Add 12 ml of essential oil and mix well.
Check that the wax temperature is at or below 150° F.
Pour the melted wax, dividing evenly between the 8 tart cavities. Once wax begins to set up, place in freezer for about 10-15 minutes.
Remove from freezer and turn mold over. Tarts should pop right out of mold.
If necessary, remelt remaining wax in pot. Pour wax in mold cavities and place in freezer to set up.
Repeat above steps 2-6 to make remaining tarts.
Package six drawstring muslin bags with four pine scented tarts each.
Label accordingly. Add warning to label that tarts should not be left in hot cars over 80° F.
To Use: Place in car, drawers, closets or place in your holiday centerpieces.
Ingredient Label:
Beeswax, Palm Kernel Oil, Fragrance