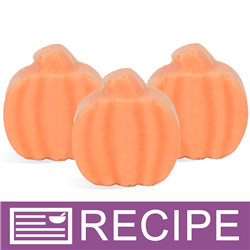 (Enlarge Image)
NOTE: If you are making these products for sale, good manufacturing practices recommend you wear a hairnet, gloves and a mask. We also recommend a clean apron and workspace.
Place silicone mold on small cookie sheet. This will help keep the mold sturdy when placing product in the freezer.
In a glass bowl, measure 4.6 oz. (1/2 cup) of Baking Soda and 1.8 oz. (1/4 cup) of Citric Acid. Sift mixture through a sieve or flour sifter to remove any clumps in the powders.
Add 1/4 teaspoon orange mica powder and mix well with wire whisk. Set aside.
To a heat-safe pan, add 2 oz. Cupuacu and 2 oz. Cocoa butters. Heat over low heat on stove top or in double boiler until melted. Remove from heat source.
To plastic beaker, add 1 oz. Polysorbate 80 and 0.10 oz. fragrance oil. Pour into melted butters and stir.
Once butters have cooled down to under 150°F, slowly add powder mixture while whisking into the butters. If butters are too hot, they can start to fizz prematurely.
Let mixture cool a few minutes longer. Mix well, then fill mold with mixture. Stir before pouring into each cavity to keep mixture well blended. Mixture should yield 9 bath melts.
Immediately place mold with cookie sheet into freezer. This helps to quickly set up mixture and will also stop any fizzing that may occur.
After one hour, remove bath melts from mold and place on waxed paper.
Repeat above steps to make another batch of 8 melts.
Package 3 melts in a cello bag and tie with raffia. Label accordingly. Add hang tag label, if desired.
To Use
: Place 1-2 melts under warm, running water . Caution: Can may tub slippery.
NOTE:
This product may be slightly soft, especially in warmer climates. Caution should be taken not to leave in areas where product may melt.
Ingredient Label:
Baking Soda, Citric Acid, Cocoa Butter, Cupuacu Butter, Polysorbate 80, Fragrance, Mica, Titanium Dioxide, Tin Oxide, Iron Oxide.