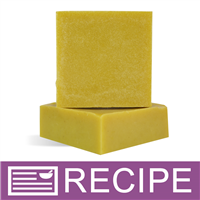 (Enlarge Image)
NOTE: If you are making these products for sale, good manufacturing practices recommend you wear a hairnet, gloves and a mask. We also recommend a clean apron and workspace.
To a large glass measuring cup, add 36 oz. of cut up clear soap base along with 3 oz. of white soap base. Heat in microwave for 2-3 minutes or until completely melted.
In a plastic beaker, mix 1.10 oz. of Pumpkin & Cardamom Fragrance Oil* with 0.55 oz. Vanilla Color Stablizer. Mix well and let sit for 2 minutes.
Add fragrance mixture to the melted soap and gently stir in.
Mix 1.5 tsp. of pumpkin powder and 1.5 tsp. of parsley powder into 1 oz. of glycerin. Stir until powders are completely incorporated into the liquid.
Add this mixture to the melted soap base and stir well.
Place the silicone soap mold onto a cookie sheet to give the mold stability if it needs to be moved.
Let soap cool to 135°F then gently stir to incorporate ingredients. Pour the soap into the 6 cavities in the Square Basic Silicone Mold. Spritz the top of the soap with alcohol to release any surface bubbles.
Once the soap has almost completely hardened, remove soap from silicone mold.
Optional: With a mallet and a soap stamp, pound the words into the top of each soap bar.
Wrap soap in airtight packaging.
Label product accordingly.
To Use: Lather onto wet skin and rinse with warm water.
10/2019: *Recipe previously contained Pistachio & Cardamom Cake fragrance oil. This fragrance was discontinued and replaced with Pumpkin & Cardamom fragrance oil.
Ingredient Label:
Sorbitol, Propylene Glycol, Water, Sodium Stearate, Sodium Laureth Sulfate, Fragrance, Glycerin, Pumpkin Powder, Parsley Powder, Sodium Myristate, Silica.