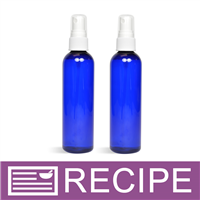 (Enlarge Image)
NOTE: If you are making these products for sale, good manufacturing practices recommend you wear a hairnet gloves and a mask. We also recommend a clean apron and workspace.
To a large microwave-safe measuring cup, add the Chamomile Water Essential Hydrosol.
Add water to the Chamomile Hydrosol and stir.
To plastic beaker, mix 5 ml of Bamboo Lotus Fragrance Oil with 20 ml FO & EO Modifier. Add to water mixture and stir.
Blend in fragrance along with Bamboo Extract stirring gently to incorporate ingredients.
Warm in microwave for 30 seconds and stir.
Add 7.2 ml preservative. Mix gently to incorporate ingredients.
Fill each bottle to 4.6 oz. by weight.
Trim dip tubes on white sprayers to fit the length of the bottle before applying.
Label product accordingly.
TO USE: Hold bottle about 8 inches from face. Lightly spritz, keeping away from eye area. Let dry. Can be used anytime for a quick pick-me-up.
Ingredient Label:
Water, Chamomile Essential Water, Fragrance, Glycerin, Bamboo Extract, Phenoxyethanol, Caprylyl Glycol, Sorbic Acid.