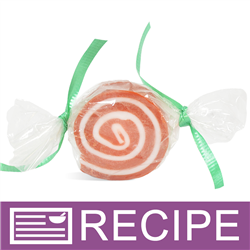 (Enlarge Image)
NOTE: If you are making these products for sale, good manufacturing practices recommend you wear a hairnet, gloves and a mask. We also recommend a clean apron and workspace.
To a small microwave-safe measuring cup, add 2 oz. of clear soap and 0.05 oz. green color block. Heat soap in microwave until melted.
Add ½ teaspoon of liquid glycerin and 1.5 ml of fragrance oil. Stir well.
Pour into loaf mold. Spritz with rubbing alcohol to pop any surface bubbles.
In microwave-safe cup, melt 1.5 oz. of white soap.
Add ¼ teaspoon of liquid glycerin and 1.5 ml of fragrance oil. Stir well.
To test if green soap has set up, press the soap with your finger. If it leaves a slight indentation, it is hard enough to pour the next layer.
When the white soap has cooled to 125°F, spritz green soap generously with rubbing alcohol.
Pour the white soap onto the green soap and spritz the top with alcohol.
When the soap is firm and only slightly warm, unmold onto a table.
Melt about 1 oz. of clear soap and add green color until it is the same shade as the first layer of soap.
Drizzle the green soap over the white layer. This will act as a "glue" when you roll up the soap.
Starting at one end (shorter side), tightly roll the soap. Try to tuck the beginning of the roll in as tight as possible so there will not be a hole in the middle of your soap. If the soap roll seems a bit loose, melt a small amount of clear soap and pour down into the top of the soap candy. Allow soap to completely harden.
While soap is hardening, repeat above steps with the red color block.
When both red and green rolls have hardened, cut the soap roll into 6 slices. Wrap each soap in a cello bag and tie ends with raffia.
Repeat above steps, again, to make another six soaps of each color.
Label product accordingly. Be sure to add a note "This Is Soap, Do Not Eat!"
To Use: Lather onto wet skin and rinse with warm water.
Ingredient Label:
Sorbitol, Propylene Glycol, Sodium Laureth Sulfate, Stearic Acid, Myristic Acid, Water, Sodium Hydroxide, Sodium Cocoyl Isethionate, Titanium Dioxide, Fragrance, Chromium Oxide, Iron Oxide.