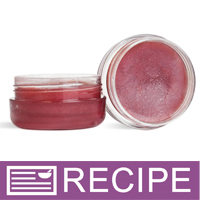 (Enlarge Image)
NOTE: If you are making these products for sale, good manufacturing practices recommend you wear a hairnet, gloves and a mask. We also recommend a clean apron and workspace.
To a microwave-safe mixing bowl, add Smooth & Creamy Lotion Bar Additive, Castor and Grape Seed Oils.
Heat in microwave on 50% powder until wax has melted. Caution, bowl will be hot.
Add Aloe Butter Blend and stir to let heat melt butter. If necessary, heat briefly in microwave until melted. Stir well
Add in Vitamin E and flavor oil. To color product only, add 1/8 teaspoon red wine mica powder. To show color on the lips, add 1/2 teaspoon. Ths color will settle when adding this much mica powder. To lessen the settling, stir product frequently and let gloss start to slightly thicken. This will help keep powder mixed in.
Pour into 12 jars and let product cool completely before applying lids.
Label product accordingly.
To Use: Apply to lips as needed.
Ingredient Label:
Aloe Butter, Castor Oil, Grape Seed Oil, Polyglycerol-3 Beeswax, Fluorphlogopite, Iron Oxide, Flavor, Vitamin E.