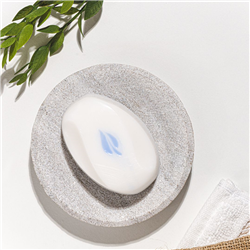 (Enlarge Image)
NOTE: If you are making these products for sale, good manufacturing practices recommend you wear a hairnet, gloves and a mask. We also recommend a clean apron and workspace.
To microwave-safe measuring cup, add 12 oz. cut up Goat Milk Soap. Heat in microwave until melted.
Add 7.5 ml Hydrangea Fragrance Oil and stir.
Place the mold on a cookie sheet for stability. Fill all three cavities of the mold and spritz the tops with rubbing alcohol to pop any surface bubbles. Set aside to cool. To help with unmolding, place in freezer for 30 minutes.
Unmold the soaps and place on a cookie sheet.
Weigh 0.50 oz. Goat Milk Soap and place in a small beaker. Heat in microwave for 10 seconds or until fully melted.
Add 5 drops of blue liquid dye and mix into soap.
Spray tops of soaps with alcohol to ensure that the leaf detail adheres properly.
Using a clean dropper, pipe the blue soap into the recessed leaf detail on the top of each soap. Spritz with alcohol to pop any surface bubbles. Let harden.
Repeat steps to make additional three bars of soap.
Wrap soaps in plastic wrap then place in kraft soap boxes to finish.
Label product accordingly.
To Use: Lather onto wet skin and rinse with warm water.
Ingredient Label:
Sorbitol, Propylene Glycol, Sodium Laureth Sulfate, Stearic Acid, Water, Sodium Hydroxide, Myristic Acid, Lauric Acid, Goat Milk, Yellow 5, Titanium Dioxide, Fragrance, Ultramarines.