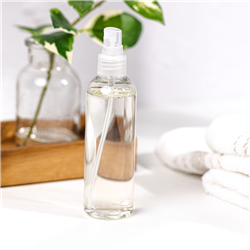 (Enlarge Image)
NOTE: If you are making these products for sale, good manufacturing practices recommend you wear a hairnet, gloves and a mask. We also recommend a clean apron, worspace and sanitized equipment.
Measure 64 oz. of the Crafters Choice Body Splash into a large glass mixing bowl with a spout.
Measure 50 mL of EO/FO Modifier and add to a glass bowl.
To the EO/FO Modifier, add 3.4 mL Peppermint EO, 4.6 mL Lavandin EO, 2.3 mL Rosemary EO, and 5.7 mL Orange (Sweet) EO. Mix well and allow to sit for 1 minute prior to use.
Add modified EO mix to your Body Splash and stir to incorporate.
Carefully fill each bottle to just below the neck of the bottle. *NOTE: You may wish to spritz the mix with alcohol to pop any surface bubbles before filling the bottles.
Trim the natural sprayer tops to fit your bottles, close and set aside.
Repeat above steps 3-7 with remaining 64 oz. of Body Splash to fill the last 7 bottles. If extra product remains, top off some of the other bottles with product.
TO USE: Use this cleaning spray on bathroom and kitchen surfaces. We do not recommend use on wood.
Ingredient Label:
Water, Nonoxynol 12, Polysorbate 80, Glycerin, Propylene Glycol, Citrus Aurantium Dulcis (Orange) Peel Oil, Lavandula Hybrida Oil, Mentha Piperia (Peppermint) Oil, Rosmarinus Officinalis (Rosemary) Leaf Oil, Diazolidinyl Urea, Methylchloroisothiazolinone, Methylisothiazolinone, Methylparaben, Propylparaben.