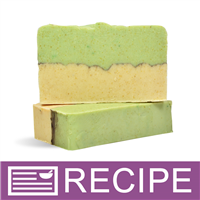 (Enlarge Image)
NOTE: If you are making these products for sale, good manufacturing practices recommend you wear a hairnet, gloves and a mask. We also recommend a clean apron and workspace.
To microwave-safe measuring cup, add 22 oz. of cut of oatmeal soap. Heat in microwave in 30-second intervals until melted.
Mix 3.5 ml of the Vanilla Color Stabilizer with 7 ml of Ginger Spice Fragrance Oil. Allow to sit for two minutes and then add this mixture to the melted soap base.
Place the Regular Loaf Silicone Mold on a cookie sheet to give it stability if it needs to be moved. Pour the soap mixture into the mold and allow to sit at room temperature until it hardens.
Leave the soap in the mold and using a blunt object, such as a spoon handle or fork tines, begin scoring shallow, irregular lines in the top of the hardened soap. Make sure to vary the depth and width of the lines and carefully remove any residual soap pieces.
Mix a small amount of both the black and brown mica in a small bowl until desired shade is achieved. Spritz the top of the scored soap loaf with rubbing alcohol.
Using a small mesh sieve or sifter, carefully sprinkle a light coating of the mica mixture over the spritzed loaf. Make sure to leave areas where there is no mica so that the top layer of soap has something to adhere to.
To a microwave-safe measuring cup, add 20 oz. of cut up oatmeal soap. Heat in microwave in 30-second intervals until mostly melted. Add a small amount of the Matte Woodland Green Soap Color Bar (approx. 1/4 cube) and continue to microwave soap until completely melted. Stir thoroughly making sure that the color bar is fully incorporated.
Add 18 ml of the Sweet Juicy Pear Fragrance Oil to the green soap and mix thoroughly.
Continue stirring until soap begins to cool slightly and becomes a bit sticky/goopy.
Spritz the top of the soap still in the mold generously with alcohol. Quickly pour green layer over the top. Note that the mold will not be completely full and the green layer may "plop" into the mold rather than pour. This is completely okay and will help produce the rounded top corners as well as the uneven top appearance making for a more natural looking bar of soap.
Let soap sit at room temperature until completely hardened.
Carefully remove from mold and cut into 1" slices, using a mitre box if available.
Wrap soap in plastic wrap and label accordingly.
To Use: Lather on wet skin and rinse with warm water.
Ingredient Label:
Propylene Glycol, Sorbitol, Water, Sodium Stearate, Sodium Laureth Sulfate, Sodium Myristate, Avena Sativa (Oat) Kernel Meal, Silica, Fragrance, Titanium Dioxide, Mica, Iron Oxide.