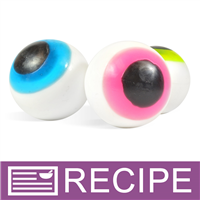 (Enlarge Image)
NOTE: If you are making these products for sale, good manufacturing practices recommend you wear a hairnet, gloves and a mask. We also recommend a clean apron and workspace.
Place bottom half of 2-piece mold on a cookie sheet to give mold stability.
In a plastic beaker, add 1.5 oz. of clear soap.
Cut the black soap color cube into 4 parts. Place one of the pieces into the beaker of clear soap. Heat in microwave in 20 second intervals until melted.
Pour about a 1 inch circle into the bottom of each round soap cavity. Let the soap harden.
To a microwave-safe measuring cup, add 4 oz. of cut up clear soap. Add one-fourth of Lemon Lime Color Block to the measuring cup. Heat in microwave in 30 second intervals until melted. If a deeper shade is desired, add a little more color block.
Once the temperature is around 125°F, spritz black soap in cavities with rubbing alcohol. Pour the lemon lime soap over the black until there is about a 1 3/4 inch circle of color. Spritz top of soaps again with alcohol and let soap harden
Cut up the entire 2 lb. tray of white soap and place soap in a large microwave-safe measuring cup. Heat in microwave until all soap is completely melted. Remove and stir to make sure soap has melted completely.
Add 1 oz. of Dragon's Blood fragrance oil and stir in.
Spritz colored soap generously with rubbing alcohol. When melted soap temperature has cooled to 125-130°F, slowly pour soap to just below the top of each cavity. Spritz with alcohol and let soap set up.
Spritz top of white soap generously with alcohol. Place the top of the silicone mold over the bottom and make sure the top and bottom are securely fastened.
Slightly reheat the remaining white soap, if necessary, but be sure soap is no hotter than 125°F. Carefully pour soap into the top of the mold cavity. Spritz to break up any surface bubbles. Repeat with all cavities. Let soaps completely harden.
When soaps have completely hardened, carefully remove from mold. Trim the small piece off the tops, if necessary, so the eyeballs are completely round.
Repeat above steps to make the other colored eyeballs.
Package one eyeball of each color into Clear Cello Bags. Add crinkle paper and tie bags.
Label product accordingly.
To Use: Lather onto wet skin and rinse with warm water.
Ingredient Label:
Sorbitol, Propylene Glycol, Sodium Laureth Sulfate, Stearic Acid, Myristic Acid, Water, Sodium Hydroxide, Sodium Cocoyl Isethionate, Titanium Dioxide, Green 8, Blue 1, Polyester-3, Red 28, Iron Oxides.