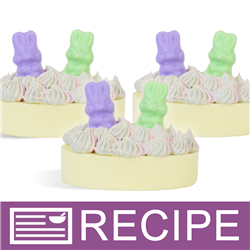 (Enlarge Image)
NOTE: If you are making these products for sale, good manufacturing practices recommend you wear a hairnet, gloves and a mask. We also recommend a clean apron, workspace and sanitized equipment.
We recommend using a mask when working with lathanol powder. It is a very fine powder and becomes airborne very quickly.
BATH FIZZY: In a large mixing bowl, add 10.96 oz. Baking Soda, 5.48 oz. Citric Acid, 2 oz. Arrowroot Powder and 0.55 oz. Lathanol Powder. Whisk to blend all ingredients.
Drizzle in 0.45 oz. Fragrance Oil, 0.18 oz. Poly 80, and 0.18 oz. Aloe Vera Oil. Stir or use gloved hands to mix liquid into powder.
Combine water and alcohol and drizzle into powder mixture while mixing with gloved hands. Water will cause mixture to prematurely fizz so mixing quickly will prevent this.
Add entire sample bag of NuTone Yellow mica powder and blend until completely incorporated.
Place mold on a cookie sheet. Fill all nine cavities with mixture being sure to pack the powder down firmly. Set aside for 2 hours. Can also be placed in refrigerator to harden quicker.
Remove oval bath fizzies from mold and set on cookie sheet.
SOAP FROSTING: Add 8 oz. of cut up soap to large microwave-safe mixing bowl. Heat in microwave until completely melted. Add in 8 oz. Foaming Bath Whip and gently stir to soften.
Using a hand mixer, slowly start to mix. Add kaolin clay a little at a time, being sure to completely mix until clumps are gone. Add 0.70 oz. fragrance and whip.
Divide mixture into four mixing bowls of approximately 8 oz. each. To one bowl, add 1/4 tsp. NuTone Yellow. To second, add 1/8 tsp. Jazzberry Red. To third bowl, add 1/2 tsp. NuTone Purple and to fourth bowl, add 1/2 tsp. NuTone Yellow and 1/8 tsp. NuTone Navy (for green).
Using hand mixer blend colors into frosting, adding more color if needed. Be sure frosting is firm enough to pipe. If necessary, let frosting sit to thicken.
Place a star decorator tip into a large decorator bag or zip close bag. Cut off corner of bag and insert decorator tip.
Place four different colored frostings into bag, placing one color next to another. Pipe stars onto bath fizzy covering the entire surface. Continue until all bath fizzies are done. Refill piping bag as necessary.
SOAP BUNNIES: In a plastic beaker, mix 1/16 tsp. NuTone Green mica powder with a small amount of glycerin. Mix well using a mini mixer or frother, if available. Melt 1.5 oz. soap then mix in mica/glycerin mixture. Fill nine cavities of the LOP 05, Mini Bunnies Mold. Spritz top of bunnies with rubbing alcohol to break up air bubbles.
In another plastic beaker, mix 1/16 tsp. NuTone Purple mica powder with a small amount of glycerin. Mix well to prevent speckling. Melt another 1.5 oz. soap and mix in mica/glycerin mixture. Fill another nine cavities with soap and spritz. Place mold in freezer to set up. Remove in 20 minutes.
Unmold soap bunnies and insert one of each color into soap frosting on each bath fizzy.
Let frosting harden overnight and then package as desired.
Label product accordingly.
To Use: Place one half or one whole bath fizzy into bath water.
Ingredient Label:
BATH FIZZIES: Baking Soda, Citric Acid, Arrowroot Powder, Sodium Lauryl Sulfoacetate, Fragrance, Water, Alcohol, Aloe Vera Oil, Polysorbate 80, Fluorphlogopite, Titanium Dioxide, Tin Dioxide, Iron Oxide. SOAP FROSTING/BUNNIES: Sorbitol, Propylene Glycol, Glycerin, Water, Sodium Laureth Sulfate, Sodium Cocoyl Isethionate, Stearic Acid, Lauric Acid, Sodium Hydroxide, Kaolin, Sodium Chloride, Fragrance, Titanium Dioxide, Diazolidinyl Urea, Iodopropynyl Butylcarbamate, Fluorphlogopite, Titanium Dioxide, Tin Dioxide, Iron Oxide, Manganese Violet, Mica.