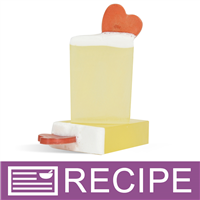 (Enlarge Image)
NOTE: If you are making these products for sale, good manufacturing practices recommend you wear a hairnet, gloves and a mask. We also recommend a clean apron and workspace.
To a large microwave-safe measuring add 40 oz. of cut up clear soap. Heat in thirty second intervals until the soap has melted.
Add 1 oz. of fragrance oil and 1/8 tsp. of Shimmering Light Gold Mica Powder. Mix well and pour into loaf mold. Spritz top with alcohol and allow to harden.
While soap is hardening melt 2 oz. of clear soap. Add 1.5 ml of fragrance oil and (3) 0.15 ml Micro Size Scoops of Crimson Red Wine Mica Powder. Mix well and pour evenly into (8) of the heart guest silicone mold cavities. Spritz with alcohol and allow to harden.
Once soap hearts have set up, carefully remove from mold and set aside for later.
Using a ruler, mark the silicone mold where the hearts will be placed. From the inside of one end, measure out 1/2" and make a mark. Then, make a mark every inch after that until you reach the other end of the loaf mold. You will place a heart where each mark is made.
For whipped topping, add 4 oz. of white soap to microwave-safe measuring cup and heat in microwave until melted. Add 3 ml of fragrance oil and stir.
Using the hand mixer, whip the soap until it has doubled in size and is foamy. Quickly spritz the top of the gold soap with alcohol and pour the whipped soap on top.
Spritz each heart with alcohol and place in the whipped soap where marked. Let soap harden.
Carefully unmold. Using a mitre box, if available, slice soap into 1" slices. Wrap in plastic wrap or package as desired.
Label product accordingly.
To Use: Lather onto wet skin and rinse off with warm water.
Ingredient Label:
Sorbitol, Propylene Glycol, Sodium Laureth Sulfate, Sodium Stearate, Sodium Myristate, Sodium Cocoyl Isethionate.