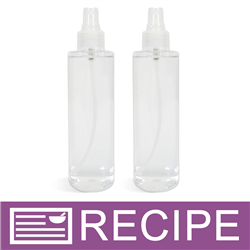 (Enlarge Image)
NOTE: If you are making these products for sale, good manufacturing practices recommend you wear a hairnet, gloves and a mask. We also recommend a clean apron and workspace.
In a glass measuring cup, mix 0.60 oz. fragrance oil and 2.4 oz. fragrance oil modifier. Set aside for at least 2 minutes.
Measure 64 oz. Luxury Moisturizing Mist and add to microwave-safe measuring cup. Microwave for 30-45 seconds.
Stir modified fragrance mixture and add to Luxury Moisturizing Mist. Mix well.
Fill eight bottles with 8 oz. of product by weight. If any product remains, divide between the bottles.
Let product cool completely. Trim dip tubes to fit length of bottles and then apply.
Label product accordingly.
To Use: Spray into air to freshen any room. Be careful not to spray too close to furniture or clothing.
Ingredient Label:
Water, Octoxynol-13, Nonoxynol-12, Fragrance, Glycerin, Propylene Glycol, Methylchloroisothiazolinone, Methylisothiazolinone.