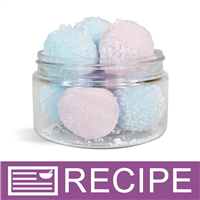 (Enlarge Image)
NOTE: If you are making these products for sale, good manufacturing practices recommend you wear a hairnet, gloves and a mask. We also recommend a clean apron and workspace.
Lathanol LAL Powder is a very airborne product. You will need a mask and a contained space when making your finished product.
To large mixing bowl, add Baking Soda, Lathanol Powder and Bubble Bar Hardener. Gently mix with a wire whisk to incorporate all ingredients. We recommend wearing a mask during this step as the powder is very fine and can be easily inhaled.
Add Waterlily & Bluebell Fragrance Oil to the dry mix and carefully mix together.
Add Bubble Wash Pearlizer and Bubble Up slowly while kneading ingredients together. The mixture will begin to take on the consistency of dough. When adding the glycerin, start with 2 oz. and add a little at a time until mixture takes on a doughy consistency. Add more as needed.
When the dough begins to hold together in your hand, gather dough into one large ball and place on a scale to weigh. The batch should weigh approximately 25 oz.
Divide the dough into (2) 12.5 oz. batches and place in separate bowls.
To one bowl add 2-3 micro scoops of blue powder. With gloved hands, mix together well until the color is completely blended in. If a darker shade is desired, add more color one scoop at a time.
To the second bowl, add 4 micro scoops of Pink Watermelon Mica Powder. Again, using gloved hands mix well to incorporate the color. If a darker shade is desired, add more color one scoop at a time.
Mix 4 oz. of Epsom Salts and 1/2 tsp. Iridescent Super Sparkle Glitter and put in a separate bowl.
Scoop out a small amount of the blue color mixture and roll into a 0.50 oz. ball. Continue to make 0.50 oz. marbles with the rest of the mixture. Once the blue color is finished, continue with the pink color until all the bubble marbles have been made.
Immediately roll marbles in the mixture of Epsom Salts and Iridescent Super Sparkle Glitter. You may need to gently press the salts into the ball so they stick.
Place bath marbles on a jelly roll pan covered with wax paper and let sit for about one hour to harden.
Package 7 bath marbles in a 4 oz. heavy wall jar with a white dome top.
Label product accordingly.
TO USE: Place one bath marble
under
running water to dissolve and create a tub full of bubbles. As marble softens, crumble into smaller pieces if necessary.
Ingredient Label:
Baking Soda, Sodium Lauryl Sulfoacetate, Glycerin, Potassium Bitartrate, Cocamidopropyl Betaine, Sodium Laureth Sulfate (and) Glycol Distearate (and) Cocamide MEA (and) Laureth-10, Fragrance, Mica, Titanium Dioxide, Iron Oxide, Fluorphlogopite, Tin Dioxide, Manganese Violet.