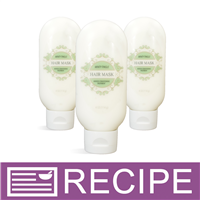 (Enlarge Image)
NOTE: If you are making these products for sale, good manufacturing practices recommend you wear a hairnet, gloves and a mask. We also recommend a clean apron and workspace.
Weigh water, glycerin and silk amino acids and add to first double boiler or metal pot. (Weigh the entire pot with contents and mark down weight for later use.)
Weigh the oil and emulsifying wax and place in second double boiler or metal pot.
Let both containers come to 158°F and continue to heat for 20 minutes. You can put this on very low, as long as the ingredients remain at 158°F.
Remove the water mixture from heat source and weigh the container. Subtract this weight from the original weight recorded earlier. Add distilled water to compensate for the water difference (water lost to evaporation).
Remove the second container from the heat source. Pour the oil in the water and mix with mixer for 3-5 minutes.
Allow mixture to cool to 100°F.
The total fragrance added should be 0.15 oz. (You can use any essential oil combination to reach this amount. We used Eucalyptus, Tea Tree and Peppermint at 0.05 oz. each.)
Add remaining ingredients and mix well.
Fill seven 4 oz. Malibu Tottle Bottles and allow to cool completely before applying cap.
Label product accordingly.
To Use
:
Apply the hair mask to wet hair. Leave on for 10 minutes or overnight, rinse, then style hair as normal.
NOT RECOMMENDED FOR COLOR TREATED HAIR.Alternate essential oil blends:
Egg Nog Holiday Mask – mix equal parts of cinnamon, clove and nutmeg
Oily hair blend: equal parts clary sage, rosemary, cedarwood and lemon or lime.
Ingredient Label:
Water, Babassu Oil, Emulsifying Wax, Glycerin, Silk Amino Acid, Bamboo Extract, Propylene Glycol, Diazolidinyl Urea, Iodopropynyl Butylcarbamate, Eucalyptus Essential Oil, Tea Tree Essential Oil, Peppermint Essential Oil.