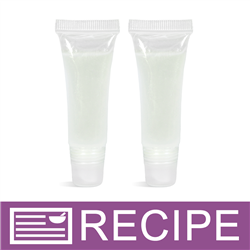 (Enlarge Image)
NOTE: If you are making these products for sale, good manufacturing practices recommend you wear a hairnet, gloves and a mask. We also recommend a clean apron, workspace and sanitized equipment.
In a small glass bowl, weigh in shea butter, jojoba oil, and aloe vera oil.
Heat oils in microwave for 30 45 seconds, until shea butter is melted.
Add DL- Panthenol to oils and whisk to dissolve.
In a microwave safe measuring cup, add 2 ounces of Versagel. Heat in the microwave for 1 minute.
Add extracts to Versagel and stir well, add melted oils and fragrance to Versagel and whisk vigorously until combined.
Scoop contents into the syringe and fill 12 tubes almost to the top. If any mixture is left split between tubes. Secure slanted reducer tip in tube and cap.
Label accordingly.
Ingredient Label:
Hydrogenated Polyisobutene (and) Ethylene/Propylene/Styrene Copolymer (and) Butylene/Ethylene/Styrene Copolymer, Mineral Oil, Coconut Oil, Aloe Vera, Jojoba Oil, Shea Butter, Water, Glycerin, Calendula Extract, Chia Seed Extract, Panthenol, Essential Oil.