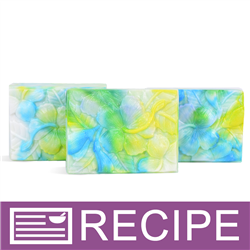 (Enlarge Image)
To a microwave-safe measuring cup, add 24 oz of cut up Premium Ultra White Soap Base. Heat in the microwave in 30 second intervals until soap is completely melted.
Add 0.5 oz of Fragrance Oil and mix well.
Place the plastic tray mold on a cookie sheet for stability.
Using any or all of the Stained Glass Liquid colors, randomly place drops of color into the bottom of the mold. Add 3-5 drops of each color per cavity. Try not to overlap colors.When the melted soap is about 150°F, carefully fill the mold. Be sure the soap is hot; cool soap will clump and cause spots, instead of a tie dye.
Spritz the top of the soap with alcohol to pop any bubbles and let soap completely harden.
Remove from mold and cut along grooves into 6 bars.
Package & label as desired.
To Use: Lather onto wet skin and rinse with warm water.
Ingredient Label:
Sorbitol, Propylene Glycol, Sodium Laureth Sulfate, Stearic Acid, Myristic Acid, Water, Sodium Hydroxide, Sodium Cocoyl Isethionate, Titanium Dioxide, Fragrance, Tetrasodium Methylparaben, Propylparaben, Blue 1, Yellow 5, Ext Violet 2.