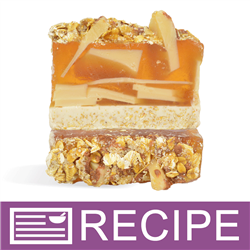 (Enlarge Image)
NOTE: If you are making these products for sale, good manufacturing practices recommend you wear a hairnet, gloves and a mask. We also recommend a clean apron and workspace.
In microwave-safe measuring cup, add 10 oz. of cut up Goat Milk Soap and heat in microwave until melted. Pour into the Round Silicone Molds. These will be used to make apple slices.
In a coffee grinder or food processor, grind 6 tablespoons of Oatmeal.
In microwave-safe measuring cup, melt 10 oz. of Ultra White Soap. Add oatmeal to the melted white soap and pour into the Regular Loaf Mold. Let set up.
Un-mold the round bars of soap and cut into slices that resemble apple slices. The image is cut into quarters and then slices.
Set 10-12 slices of soap aside.
In plastic beaker mix 0.50 oz. Apple Pie Fragrance Oil with 0.25 oz. Vanilla Color Stabilizer. Let sit for 2 minutes.
In microwave-safe measuring cup, melt 16 oz. of Sweetened Honey Soap Base. Add fragrance mixture and stir in.
When the base cools to 130º F, spritz oatmeal soap with rubbing alcohol and pour a 1/4" layer of honey soap.
Spritz the "apple slices" with rubbing alcohol. Layer some of these in the honey soap.
Pour more honey soap and repeat layering the apple slices. Continue until all of the honey soap and the apple slices have been used. Try to position some of the slices so they are sticking out of the top. The soap should be about 1/2" from the top of the mold.
In plastic beaker mix 2 ml Brown Sugar Fragrance Oil with 1 ml Vanilla Color Stabilizer. Let sit for 2 minutes.
Mix 3 Tablespoons of oatmeal (not ground) with 3 Tablespoons of brown sugar. Drizzle the Brown Sugar Fragrance Oil onto mixture and mix in well with a fork.
Melt 3 oz. of Clear Soap. When the soap cools to 130º F, spritz the loaf with rubbing alcohol and pour soap over the top
Immediately, sprinkle the oatmeal and brown sugar mixture on top of the loaf. Note: Pouring the clear soap first gives this mixture something to "stick to" and prevents your beautiful topping from falling off during slicing!
For the "caramel drizzle", melt 1 oz. of honey soap. Color with a scant micro scoop of Chocolate Brown Mica Powder and a dash of Egyptian Bronze Mica Powder. Pour in a zig-zag pattern on top of loaf.
Unmold and slice after 24 hours. Wrap in plastic wrap or packaging of choice.
Label product accordingly.
To Use: Lather with water onto skin. Rinse off. Avoid contact with eyes
Ingredient Label:
Propylene Glycol, Sorbitol, Glycerin, Sodium Laureth Sulfate, Sodium Stearate, Sodium Myristate, Sodium Cocoyl Isethionate, Goat Milk, Honey, Fragrance, Avena Sativa (Oat) Kernel Meal, Triethanolamine, Water, Mica (and) Titanium Dioxide (and) Iron Oxides.