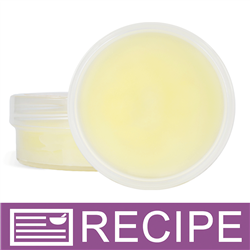 (Enlarge Image)
NOTE: If you are making these products for sale, good manufacturing practices recommend you wear a hairnet, gloves and a mask. We also recommend a clean apron and workspace.
In metal pot, add walnut oil and beeswax. Heat on low until completely melted.
Stir the mixture until the temperature reads 140 degrees Fahrenheit.
Add vitamin E and essential oil. Stir well.
Pour 2 oz., by weight, into jars and let cool completely before adding lids.
Label product accordingly.
To Use: Rub a soft polishing cloth on the polish until you get a good amount on the cloth. Rub polish in small circles on furniture. Finish by rubbing along the wood grain. Let the wax dry and then polish the furniture with a clean polishing cloth for a final buff. Not recommended for antique furniture.
Ingredient Label:
Walnut Oil, Beeswax, Lemon Essential Oil, Vitamin E.