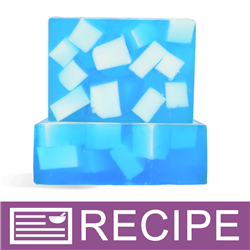 (Enlarge Image)
NOTE: If you are making these products for sale, good manufacturing practices recommend you wear a hairnet, gloves and a mask. We also recommend a clean apron and workspace.
Using a soap cutter, cut up the entire 2 lb. tray of white soap into small 1/2" cubes. Place in bowl and set aside.
Using a microwave-safe measuring cup, add 1 lb. of cut up clear soap. Heat for 30 second intervals until soap is completely melted.
Cut one blue color block in half and place into melted soap. Stir until melted. If needed, place back into microwave to completely melt.
Add 0.50 oz. fragrance to colored soap and mix well.
Immediately pour the blue soap into each cavity until they are 1/2 to 3/4 full.
When colored clear soap has cooled to 130-134ºF, take a handful of white soap chunks and spray them well with rubbing alcohol. Place the cubes of soap into each cavity. Add enough cubes so each cavity is completely full.
Spritz top of soap with rubbing alcohol to release any air bubbles. Allow soap to harden.
Remove from mold. Wrap each soap in plastic wrap then place in a cello bag. Tie with ribbon.
Repeat above steps to make a second set of four soaps.
Label product accordingly.
To Use: Lather onto wet skin and rinse with warm water.
Ingredient Label:
Sorbitol, Propylene Glycol, Sodium Laureth Sulfate, Stearic Acid, Myristic Acid, Water, Sodium Hydroxide, Sodium Cocoyl Isethionate, Titanium Dioxide, Fragrance, Blue 1.