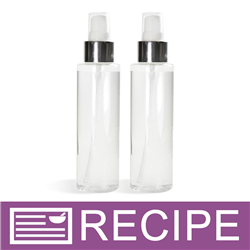 (Enlarge Image)
NOTE: If you are making these products for sale, good manufacturing practices recommend you wear a hairnet, gloves and a mask. We also recommend a clean apron and workspace.
In plastic beaker, mix 24 ml fragrance oil and 96 ml fragrance oil modifier. Set aside for at least 2 minutes.
Measure 16 oz. Body Splash and place in glass measuring cup.
Microwave for 30 seconds.
Add the modified fragrance oil and stir.
Pour into bottles and allow to cool completely before adding sprayer top. The dip tubes will need to be trimmed to fit bottles.
Label product accordingly.
To Use: Spray onto skin as desired.
Ingredient Label:
Water, Nonoxynol 12, Fragrance, Polysorbate 80, Glycerin, Propylene Glycol, Methylchloroisothiazolinone & Methylisothiazolinone.