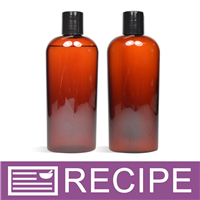 (Enlarge Image)
NOTE: If you are making these products for sale, good manufacturing practices recommend you wear a hairnet, gloves and a mask. We also recommend a clean apron and workspace.
TO MAKE SHAMPOO:
In a large glass mixing bowl, add 48 oz. of Clear Conditioning Shampoo.
Take a small amount of shampoo out of the bowl and place in a glass measuring cup.
Stir 1 oz. of Carrot Powder into shampoo base and whisk until smooth, removing any clumps.
Add mixture back to large bowl and blend well with whisk.
Add 1 oz. of Shampure EO/FO fragrance oil and mix until incorporated.
Pour 1 oz. of Bubble Wash Thickener into small glass bowl and heat in microwave until product reaches temperature over 122°F, approximately 10 seconds.
Pour Bubble Wash Thickener into shampoo base mixture and stir until well blended.
Pour mixture into bottles and cap immediately.
TO USE: Lather onto wet hair. Rinse and repeat, if desired.
TO MAKE CONDITIONER:
In a large glass measuring cup, add hemp seed oil, tucuma butter and lotion bar additive.
Heat in microwave until lotion bar additive is completely melted.
To second microwave-safe measuring cup, add water. Heat in microwave for 2 minutes.
Using a stick blender or hand mixer, blend until mixture is has thickened and all ingredients are incorporated.
Add 0.65 oz. Carrot Seed Extract and 0.65 oz. Shampure EO/FO fragrance oil to the water mixture and blend again for approximately 1-2 minutes.
Remove approximately 4 oz. of the mixture and place in a small bowl or glass measuring cup. Add Xanthan Gum and stir to incorporate. Using stick blender, blend until completely smooth.
Add Xanthan Gum mixture back into original mixture and blend using stick blender until fully mixed and completely smooth.
Check temperature to be sure mixture is lower than 176°F. Add 1 oz. preservative and blend for an additional 30 seconds.
Cover bowl with plastic wrap and let product thicken. This may take up to 24 hours.
Pour conditioner into bottles and apply caps.
Label product accordingly.
TO USE: Depending on hair type, the conditioner can be used daily or once a week as a conditioning treatment.
Ingredient Label:
SHAMPOO: Water, Sodium Lauryl Sulfate, Ammonium Lauryl Sulfate, Cocamidopropyl Betaine, Polyquaternium-7, C12-15 Alkyl Lactate, Sodium Chloride, Carrot Powder, PEG-150 Pentaerythrityl Tetrastearate, PEG-6 Caprylic/Capric Glycerides, Fragrance, Propylene Glycol, Diazolidinyl Urea, Iodopropynyl Butylcarbamate, Citric Acid. CONDITIONER: Water, Hemp Seed Oil, Polyglycerol-3 Beeswax, Phenoxyethanol, Caprylyl Glycol, Sorbic Acid, Tucuma Butter, Glycerin, Carrot Seed Extract, Fragrance, Xanthan Gum.