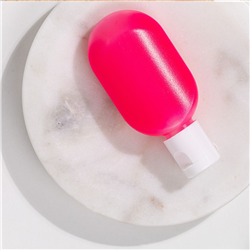 (Enlarge Image)
NOTE: If you are making these products for sale, good manufacturing practices recommend you wear a hairnet, gloves and a mask. We also recommend a clean apron and workspace.
To double boiler or metal pot for stove top, add lotion bar additive, cooca butter, castor oil, MCT, rose hip seed oil, safflower oil, lanolin butter and vitamin E oil. Heat until melted.
Add fragrance oil blend and pink powder color and whisk to incorporate.
Pour mixture into plastic beaker to make it easier to pour into each tube.
Fill tubes and place in a glass - uncapped and upright. Allow to completely cool before capping.
Label product accordingly.
To Use: Apply to lips as needed.
Ingredient Label:
Castor Oil, Cocoa Butter, Medium Chain Triglyceride, Rose Hip Seed Oil, Safflower Seed Oil, Polyglycerol-3 Beeswax, Vitamin E, Fragrance, Lanolin Butter, Red 28, Red 22.