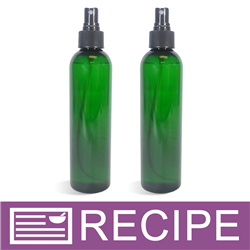 (Enlarge Image)
NOTE: If you are making these products for sale, good manufacturing practices recommend you wear a hairnet gloves and a mask. We also recommend a clean apron and workspace.
In large glass bowl, pour 16 oz. of Body Splash.
In plastic beaker, mix 0.15 oz. of fragrance with 0.60 oz. of Fragrance Oil Modifier. Mix well.
Add fragrance mixture to Body Splash and gently blend together.
Divide mixture into 2 bottles.
Trim dip tubes on sprayers to fit length of bottles and apply..
Label product accordingly.
TO USE: Spritz into air, onto wreaths or table centerpieces.
Ingredient Label:
Water, Nonoxynol 12, Fragrance, Polysorbate 80, Glycerin, Propylene Glycol, Methylchloroisothiazolinone & Methylisothiazolinone.