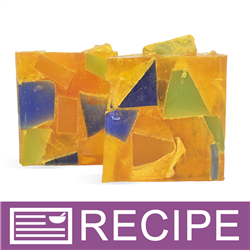 (Enlarge Image)
NOTE: If you are making these products for sale, good manufacturing practices recommend you wear a hairnet, gloves and a mask. We also recommend a clean apron.
To a microwave-safe measuring cup, add 8 oz. of cut up clear soap and heat in microwave in 30 second increments until melted.
In a plastic beaker, mix 7 ml of fragrance oil and 3.5 ml vanilla color stabilizer. Let sit for 2 minutes. Add fragrance mixture to melted soap along with liquid blue pigment adding until desired shade is reached.
Carefully pour soap into the silicone guest loaf mold. Spritz top with alcohol.
Let soap harden, then remove from mold. Set aside.
Repeat Steps 1-4 using the yellow liquid color and the green liquid color.
After soaps have been unmolded, cut each color up into various size chunks.
Place gold mica powder into a zip lock bag. Using gloved hands, place a few chunks at a time into bag to coat soap chunks. Remove and set on covered surface. Repeat until all chunks are coated with mica.
To large microwave-safe container, add 20 oz. of cut up soap. Heat in microwave until melted.
In plastic beaker, mix 0.50 oz. fragrance oil and 0.25 oz. vanilla stabilizer. Let sit for 2 minutes then add to melted soap and stir.
When soap has cooled to between 125-130ºF, pour about 1 inch of soap into regular loaf mold.
Spritz the mica covered chunks with alcohol and place various colored chunks into the soap, packing them down tightly. Tap the mold on the counter after each pour to help remove air bubbles.
Continue to alternate clear soap and chunks until the loaf is completely filled. Continue to spritz as you go along.
When soap has been filled to the top, spritz and let soap harden, preferably overnight.
Carefully remove soap from mold. Cut your loaf into slices or chunky shapes, if desired. Try beveling the edges on the slices or chunky shapes for a more polished look.
Wrap in airtight packaging and label product accordingly.
To Use: Lather onto wet skin. Rinse off with warm water.
Ingredient Label:
Sorbitol, Propylene Glycol, Sodium Laureth Sulfate, Stearic Acid, Myristic Acid, Water, Sodium Hydroxide, Sodium Cocoyl Isethionate, Ultramarines, Glycerin, Chromium Oxide, Fluorphlogopite, Iron Oxides, Titanium Dioxide, Tin Oxide.