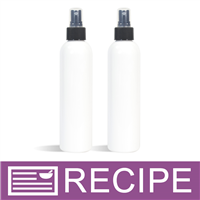 (Enlarge Image)
NOTE: If you are making these products for sale, good manufacturing practices recommend you wear a hairnet, gloves and a mask. We also recommend a clean apron and workspace.
Add 56 oz. Pet Spray to measuring cup.
To plastic beaker, mix 2.25 oz. FO & EO Modifier and 0.56 oz. Fragrance Oil. Mix well and allow to sit for 2 minutes.
Add modified fragrance to pet spray and gently mix.
Fill eight bottles to 7.70 oz. by weight.
Repeat to make remaining bottles.
Cut dip tubes to fit length of bottles and apply.
Label product accordingly.
To Use:
Spray onto cats or dogs to freshen them up in between baths. Do not spray in areas where product may be licked. Avoid contact with eyes.
Ingredient Label:
This product is regulated by the Consumer Product Safety Commission and is not required to have ingredients listed on the label.